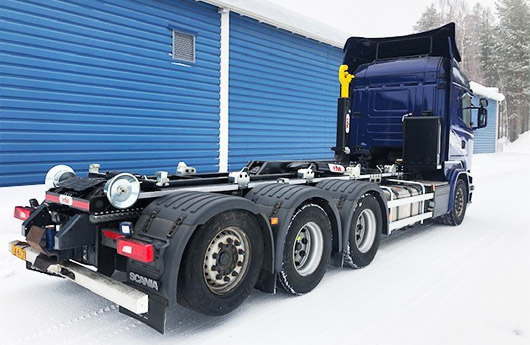 We carry out heavy-duty crane and lifting mechanism assembly on all crane brackets, trucks and work machines. We assembly timber and bulk cranes as well as tail lifts, cable lifts, hooklifts and telehandlers.
The crane assembly includes, among other things, modifications to the crane bracket, adjustment of the hydraulics and assembly of the grapple, scale and work lights according to the customer's wishes. All lifting equipment is also easily serviced and repaired, as well as periodic and 10-year inspections from the same location. A wide range of spare parts and accessories for cranes and lifting equipment is also available.
We have been an authorized assembly and service point for Kesla since 1993. We also act as an official distributor of Kesla timber cranes and grapples. read more about Kesla Timber Cranes from link below.
We implement RIIKO® crane brackets in all crane models on the market. Crane installations are dimensioned according to the selected chassis type and the loads driven on it, without forgetting the effects of the crane's center of gravity on the truck's driving characteristics in different situations. As option: internal, external and fixed crane brackets.
RIIKO® gravel superstructures and trailers, workshop and inspection services, tires
RIIKO® timber and energy superstructures, Kilafors timber trailers, Kesla cranes