Our professionals guarantee that all work is carried out efficiently and with solid professionalism - within the agreed time.
JARI RIIKONEN
Sales Director
Konekorjaamo Riikonen Oy is a heavy equipment repair shop founded in 1981 and a RIIKO® superstructure manufacturer. Our company has been operating in Joensuu, Eastern Finland for more than 40 years and currently employs about 30 heavy equipment professionals.Our workshop services cover all maintenance, repairs, inspections and spare parts for heavy equipment. As a multi-brand repair shop, we service heavy-duty vehicles of all brands, models and ages. We are an A-brake repair shop and perform all repair, maintenance, adjustment and modification work on brake systems and their control devices, as well as brake adjustments for vehicle combinations. Konekorjaamo Riikonen Oy is part of the international TOP TRUCK workshop chain and the official installation and maintenance point for KESLA cranes since 1993.
RIIKO® is our own brand, whose main products are timber, energy and gravel superstructures for trucks and trailers. RIIKO® products are made by us, beginning from the press brake bending and ending to the surface finishing. The production chain of our superstructures, from design to assembly, takes place in the same yard, which means that orders are completed quickly, on schedule. In addition to our own production, we are the official importer and distributor of Kilafors Karlavagnen trailers and Özgül semi-trailers, as well as a distributor of Kesla cranes. The brands we represent also include e.g. Meiren Snow plows and underbody scrapers and Tamtron crane scales.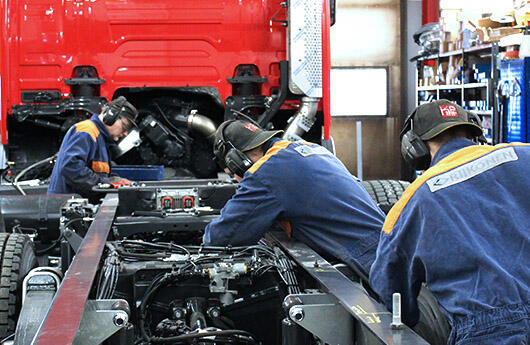 Kari Pakarinen
Google arvostelu
Erittäin hyvä ja nopea palvelu perjantai iltana. Siirto ja heti aloittivat hommat. Ja samoin asiakaspalvelu.
Jari Lempessalmi
Google arvostelu
Aina on vehkeet kuntoon saanut odottaessa!
Markku Mara
Google arvostelu
Ira Toivanen
Google arvostelu
Esa Halonen
Google arvostelu
Kari Muona
Google arvostelu
Juri Lamberg
Google arvostelu
Tomi Tuononen
Google arvostelu
Tanjukka K
Google arvostelu
Tatu Kolehmainen
Google arvostelu
Teemu Pitkänen
Google arvostelu
Hannu Vehkaoja
Google arvostelu
Kari Luukkonen
Google arvostelu
Casper Gustafsson
Google arvostelu
Dima Fokin
Google arvostelu
Pasi Kesti
Google arvostelu
Service reliability is an important part of our company's quality control and customer satisfaction monitoring. We want to ensure that all our implementation takes place on time - completed at once.
Our products are CE certified - designed and tested in accordance with international machine safety standards and machine directives.
From us, you get everything you need to purchase and maintain heavy duty equipment. Whether it's scheduled maintenance, major renovations or the purchase of completely new equipment - you get everything you need in one place. As a multi-brand repair shop, we know all models and ages of transport equipment. Our products are designed to fit all truck brands and models on the market.
Our product range covers e.g. superstructures, trailers, semi-trailers, timber cranes, crane scales and snow plows. Our range of services includes e.g. repair services, inspection services, spare parts service and tire service. All these - under one roof.