Tamtron timber crane scales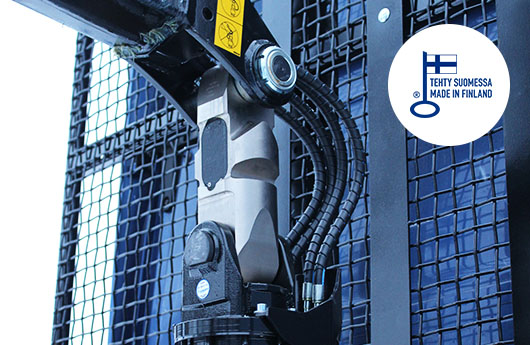 RESALE OF TAMTRON TIMBER SCALES
We are official retailer of Tamtron Timber crane scales. With accurate weighing information, you gain the benefits of a faster workflow, more transparent logistics and better profitability. Tamtron is a Finnish scale manufacturer. All their products have Key Flag symbol, which indicates domestic manufacturing. Tamtron has experience of weighing solutions for nearly 50 years.
TAMTRON ONE TIMBER SG SCALE
One Timber SG scale and its durable weighing sensor are ideal for demanding use and continuous loading. The weighing sensor is based on strain gauge technology, so there is no hydraulics in the sensor that would cause friction or moving parts affecting the weighing. The sensor is maintenance-free and has a long-lasting battery. The operating temperature of the motion- and temperature-compensated sensor is -25 ° C to + 50 ° C. Tamtron scale is accurate and designed for fast-paced loading up to 10 tons.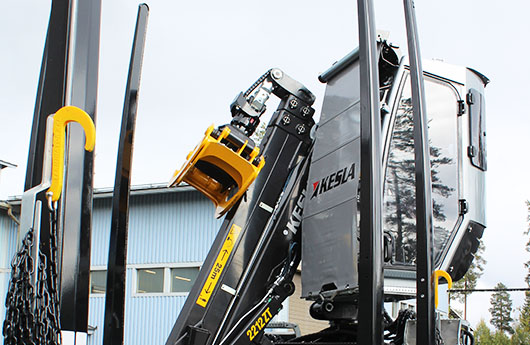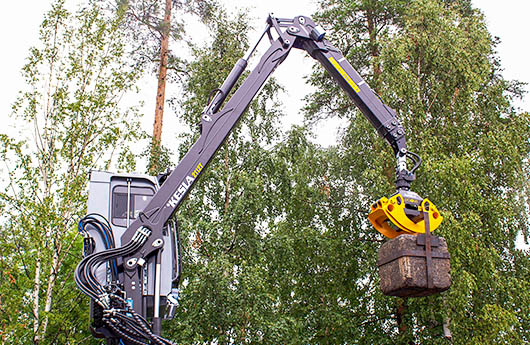 BENEFITS OF TAMTRON ONE TIMBER SCALE
easy to install and use
durable weighing link for challenging conditions
clear user interface
battery life on average over 2 weeks (spare battery included in the delivery)
way of loading does not affect the weighing accuracy
product support and updates available remotely
24/7 real-time data transfer with the One Cloud
TAMTRON ONE TIMBER SG SCALE PACKAGE
wireless Tamtron One scale display
SG weighing link (includes receiver and battery)
cable set (including summing button)
backup battery
battery charger
battery tool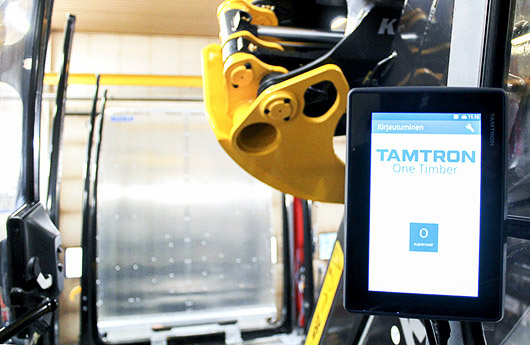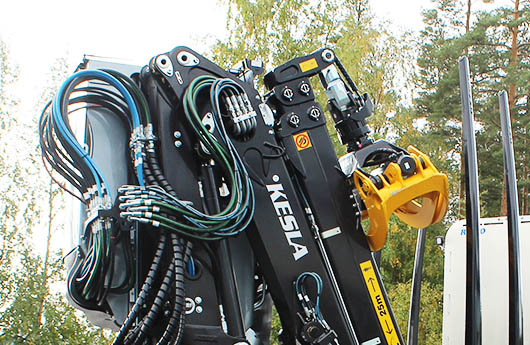 TAMTRON ONE TIMBER SG ASSESSORIES
2" Bluetooth mobile printer
stand for printer
thermal paper roll for printer
rechargeable battery for weighing link
battery charger, universal voltage
protective cover for display unit
pedal
external buzzer
TAMTRON ONE TIMBER SG WEIGHING LINK
weight 26 kg
wireless data transfer
Li-ion rechargeable battery
surface finishing: zinc plated (blue passivation)
heavy duty bushing material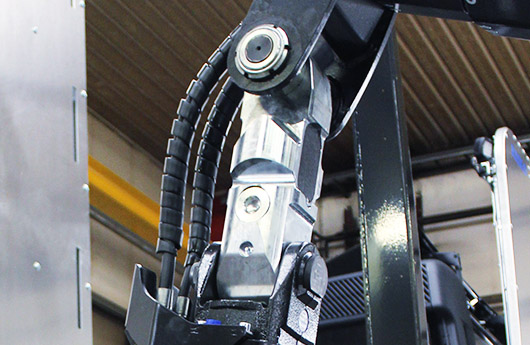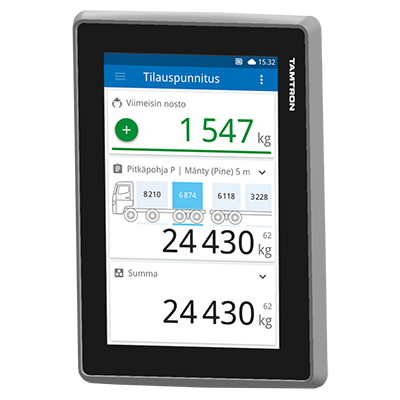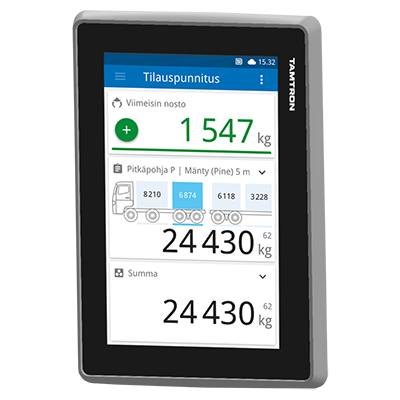 TAMTRON TIMBER ONE SCALE DISPLAY
dimensions 205 mm x 144 mm x 45 mm without stand
weight 1 kg (with stand)
operating voltage 12/24 VDC
7" 800×480 TFT LCD with capacitive touch panel
2 x CAN (1 x CAN with 12 VDC power output)
analog composite video input
1 x RS232 for printer with 24 VDC power output
2 x USB 2.0
2G/3G/4G mobile data
WiFi 802.11 b/g
Bluetooth 4.1
GPS/GLONASS
position sensor
internal buzzer
digital I/O (3 x digital in, 1 x digital out, 1 x PWM out)
IP 67
TAMTRON ONE CLOUD SERVICE
In Tamtron One Cloud -cloud service, weighing data is available to the entire organization in real time. The data is automatically transferred from the scale to the cloud service with real-time data transfer. It is easy to send work orders to the driver, and correspondingly, the weighing data is saved automatically and without delay in the system without interrupting the work. The main contractor can improve logistics by monitoring subcontractors' schedules and processed loads. Saving the data automatically guarantees that the weighing data is always up-to-date, correct and all the necessary information and documents are combined with it. This speeds up e.g. reporting and invoicing. By analyzing weighing data, a company can increase efficiency, productivity and predictability.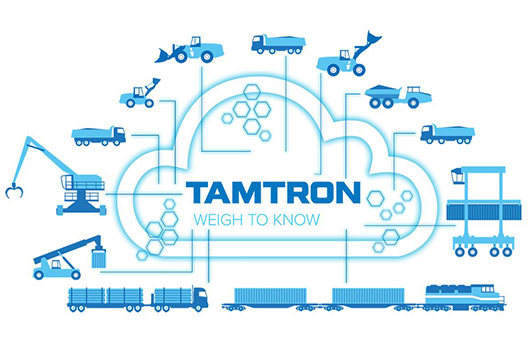 Ask for more information about our products and services! Add your contact information and tell us which product/service you would like to hear more about or receive an offer. By submitting the form, you agree our privacy statement*. You can also contact us directly by phone, our contact information can be found below!
Timber and energy superstructures, trailers, cranes, scales, rotators, machine control, used machinery